Soup and More from Thanksgiving Leftovers
Thin the pumpkin puree with stock (I like chicken for this), add salt and pepper and maybe garlic powder, and whatever herb you like. I think tarragon would be lovely in this, or lemon thyme, or powdered ginger.
And if you don't have quite enough pumpkin to make soup for dinner, how about combining leftover pumpkin and sweet potatoes. The color is sensational, and the flavors balance very nicely.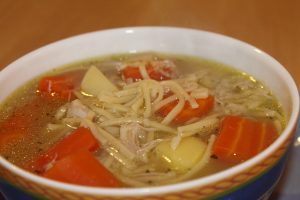 TURKEY SOUP. OK, I know you want to do this, so start by making your stock. You don't need a recipe from me for  this; you already know how to make flavorful stock from the carcass and leftover bits and pieces. Let me just say one thing: try adding a teaspoon of fresh lemon juice to your stock.
Then, add whatever noodles your family likes, and simmer till they are almost done.
Now add in leftover veggies. Celery, carrots, green onions from the relish tray, diced to soup-spoon size And green beans or other green vegetable you had on Thursday, chopped into bite-size pieces. If it was the classic green bean casserole, with cream of mushroom soup and dried onions, you might want to scrape off the onions; also, try to separate the beans so you can cut them down to soup-spoon size.
TURKEY SANDWICH.  Finally, to go with any of these soups, or just to enjoy on its own, let's make a spectacular turkey sandwich.
Start with a good pile of turkey slices.
 Use a sturdy bread like sourdough or French bread, and spread both sides with butter.
Mix together this spread: two parts mayonnaise, one part Dijon mustard, one part leftover cranberry sauce.
Assemble the sandwiches:  Spread the cranberry/mayo mixture on one side of turkey slices, add a slice of cheese (provolone or Swiss, maybe),  fit this tightly between your two slices of buttered bread, and grill in a skillet the same way you would make grilled cheese sandwiches.