Soup and More from Thanksgiving Leftovers
POTATO SOUP.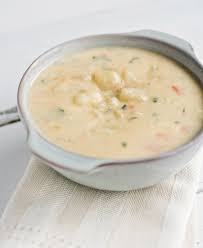 Most recipes for potato soup (and there are scads) tell you to start by cooking potatoes till very tender, then pureeing or mashing them, along with broth or milk, into smooth or chunky form. But if you start with leftover mashed potatoes, you're already halfway home. Maybe more.  
Basic procedure: thin the potatoes with your choice of liquid: stock, milk, buttermilk, even water. This is easier  with a blender or food processor. Taste as you go, add salt and pepper. Garnish with chopped parsley or scallions.