Please Eat the Flowers, part 3
Because you're so smart, you probably already know about nasturtiums. They are, I think, the most familiar edible flower. With their distinctive peppery taste and knockout colors, they are a sure-fire but easy way to add drama to many of our favorite summertime dishes.
Toss a few in with green salads.
Tuck them around the deviled eggs you're taking to the neighborhood potluck.
Put a circle of flowers around the bowl of your famous potato salad.
A platter of barbecued chicken, poached salmon, or grilled vegetables — they all get an extra punch of color with a few carefully placed nasturtium flowers.
But don't overlook the leaves. Just as they are, they make a nice addition to a mixed green salad. They have the same peppery taste as the flowers, somewhat like watercress. Slice them into thin ribbons or snip them into bite-size pieces, fold in with the other greens. Or use in place of watercress for teatime sandwiches.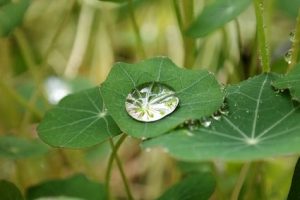 And that's just the beginning. Once the plants have passed the "baby" stage, the leaves have a slightly cupped shape.
And those cupped leaves lend themselves to all kinds of creative uses.
Make an herb butter by blending minced fresh herbs with softened butter. Place a small dab of your special butter on nasturtium leaves, and place the leaves on the edges of your serving platter. Or on a separate small plate, if you're not using a platter.  Try dill butter with poached salmon. Or basil butter with baked tomato tart. Or thyme butter with grilled chicken.
For a summertime canape, spread small crackers (like Wheat Thins) with cream cheese, place them on nasturtium leaves around the edges of a white platter, pile red and black seedless grapes in the center.