Maggie's Books on Gardening, Cooking, and Entertaining
200 Tips for Growing Vegetables in the Pacific Northwest.
Actually, there are more than 200. Easy to read, easy to use, easy to tuck in a pocket.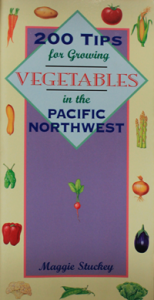 Many of these books are available primarily from online booksellers. If you would like, I will be happy to send you a personalized bookplate. Click to request.
Gardening from the Ground Up.
Easy to read, easy-to-understand primer for beginners. Large-size paperback.


This little primer will provide serious assistance to beginning gardeners everywhere. The book's organization is extremely user-friendly. In alphabetical format, Stuckey progresses from annuals and biennials to seeds, vines, and year-round care, [and] is enjoyably direct in her sensible instruction. An admirable handbook that could prove to be indispensable as a most basic reference.  – Booklist, March 1, 1997


Will give new gardeners the confidence they need to succeed. – smallgarden.info