Unboring Turkey Leftover Soups
Now taste. Not salty enough? Add more soy sauce. Too sour? Add a touch of brown sugar. Too spicy? Add coconut milk. Too bland? Add more chili. When it's to your liking, serve garnished with basil, cilantro, and green onions. Pass extra lime wedges; that hint of lime is unmistakably Thai.
Tangy Turkey Noodle Soup. For all you traditionalists, here's a perfect noodle soup with a twist. A twist of lemon, that is.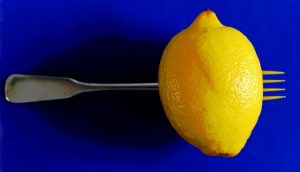 Your stock, plus sliced carrots, celery, onions, some frozen corn, and bell peppers. Plus diced turkey and spoon-sized pasta in your favorite shape. Simmer until veggies and noodles are done, then add extra goodness from roasted garlic, a pinch of oregano, a pinch of tarragon, salt and pepper to taste. And here's the twist: Add thin strips of peel from one orange (just the orange part, not the white pith) and the juice of one lemon. I'm indebted to the lovely Amy Wachsmuth for this brilliant idea. The citrus lightens and softens the flavor of the turkey stock, so it tastes just like all the turkey soup you ever had, except it's the best ever.
Other Possibilities. I hope I've given you some glimpse into the many ways to use leftover turkey in soups. Now that you're thinking along those lines, here are some other ideas for your creative adventures.
Turkey Corn & Potato Chowder.
Turkey Posole.
Hot and Sour Soup with Turkey.
Turkey Tortilla Soup.
If you have another favorite, another invention, I'd love to hear about it. Send me a "reply" email and let me know if I have your permission to share it with others.