Unboring Turkey Leftover Soups
Thai Turkey Soup. If you love to cook Asian foods, you may already have some of the classic ingredients at hand. If not, I've suggested substitutes.  
            Thai dishes are known for flavor balance: spicy, sour, salty, and sweet. All those flavors are here, but remember that you're in charge: taste often, add more or less of various tastes until you like the results. After all, it's soup – it's meant to be adaptable.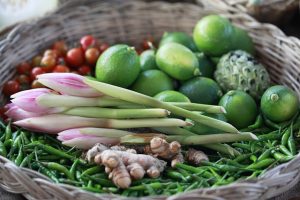 Assemble all your ingredients. Lemongrass makes this truly authentic, if you have access to it. Remove outer tough covering from one stalk, then finely dice the lower portion (discard the rest). If you don't have lemongrass, substitute 3 slices of fresh lemon. Remove the zest from one lime (it's a substitute for the more authentic but hard to find kaffir lime leaves), squeeze the rest for juice. Peel and grate a chunk of ginger about the size of your thumb. One cup of sliced mushrooms, fresh shiitake if you can find them. One Thai chili (small, red, hot as the devil), minced (or substitute 1teaspoon Asian chili sauce, ½ teaspoon dried red pepper flakes, or a pinch of cayenne). Slice 3 green onions, white part and the tops. Slice 3 fresh basil leaves into ribbons (or a big pinch of dried). Cut a colorful bell pepper into thin strips. Remove the stems from a big handful of cilantro, chop the leaves. Dice some leftover turkey into spoon-size pieces, and you're done chopping.
            Add these to your big soup pot: your turkey stock, diced turkey, lemongrass (or lemon slices), lime zest and juice , ginger, mushrooms, chili, and the bell pepper. Also at this point add 1 tablespoon fish sauce (or soy sauce) and one cup of coconut milk. The coconut milk makes this soup truly Thai, but it's also delicious without it.