Soup for Colds, Part 3: The Recipes
Red Pepper-Mushroom Bisque. We're breaking all the rules here, because traditionally bisque is a smooth, thick soup made from some kind of pureed shellfish. This one uses a smooth puree of red bell peppers, enriched with sautéed mushrooms, Remove seeds and white membranes from 4 red bell peppers, chop in chunks. Saute the peppers in a bit of olive oil, along with 1 diced medium onion, 2 diced garlic cloves, and 1 teaspoon ground white pepper. Sprinkle 1 tablespoon flour over everything, stir well, and cook until the vegetables are soft. Add 4 cups of your special stock, stir thoroughly, and simmer for about 5 minutes until the stock thickens. Run everything through a blender until smooth.Iif necessary, strain to remove traces of the pepper peels; reheat. Meanwhile, slice 1-2 cups mushrooms (how much do you love them?) and saute in olive oil until thoroughly browned. To make this extra-special, use a combination of different mushrooms. To serve, carefully position a small pile of mushrooms atop the beautiful red soup in each bowl; if no one has a problem with dairy, first float a circle of sour cream in each bowl and center the mushrooms on it.
Super-Easy Chunky Tomato Soup. If you already receive this Sunday Salmagundi newsletter, you have seen this one, just a couple weeks ago. But I'm repeating it here because [1] it's both simple and delicious, [2] it demonstrates how easy it is to add these powerful cold-fighters to your diet, and [3] it exemplifies what soup is all about: comforting, warm, inexpensive, and infinitely flexible.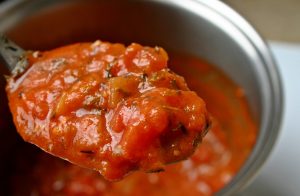 You may remember that I came up with this because I had party leftovers that needed to be used; it's just a nice bonus that it is rich with cold-fighters.  Start with one can of tomatoes (I used the stewed variety, but any type of canned tomatoes would work). Run it through the blender with an equal amount of chicken stock (your own fortified stock, of course). I added about half a cup of leftover spicy salsa, heated it, and served with side bowls of these toppers: shredded cheese, sour cream, green onions, tortilla chips (all leftovers). Quick, dead simple, and delicious.