Soup for Colds, Part 3: The Recipes
Now let's make some soup! To save space, I'll use the paragraph format. Some things are always the same: In all cases, start with your basic fortified stock (unless you made one of the variations from Step 2). In all cases that call for blending, you can use a stand blender, an immersible blender, or a food processor. In all cases, always taste before serving and add salt and pepper if needed. In all cases, vegetarians can simply substitute vegetarian stock and leave out the meat — well, except for Chicken Noodle, of course; vegans, you know what to do. All these produce four servings; multiply as needed.
Need other ideas?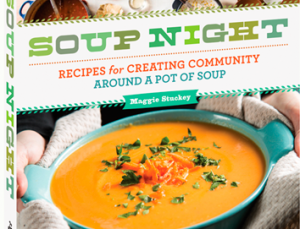 Pull out your favorite soup cookbook (including, um, mine: Soup Night) and turn to the index. Look up the cold-fighters (see Step 1) and explore the recipes that use them.
Chicken Noodle Like Mom Used to Make. Start with 4 cups of your special stock. Add 1 cup each sliced carrots, diced onion, and sliced mushrooms. (For richer flavor, first saute them in olive oil for about 5 minutes). Add a pinch of oregano. When the vegetables start to soften, add 1 cup uncooked noodles, your choice. Simmer until the noodles are ready. A tiny splash of lemon juice brightens the flavors, and you're done.
Egg Drop Soup with Spinach and Shiitake Mushrooms. A classic from your favorite Chinese restaurant, with a vitamin boost. Start with 4 cups of your special cold-fighting stock. Add 1 garlic clove, minced, and half of a hot chili pepper, minced. (The hot pepper is optional, but adds an authentic Asian touch).  Prepare 4 or 5 mushrooms. If using fresh, remove the tough stem (it'll never soften), slice into bite sizes. If using dried; soak in lukewarm water, remove the stem, slice. Add mushrooms to the stock. Slice 2 cups fresh spinach into ribbons; set aside. Break 2 eggs into a small bowl, whisk (like for scrambled eggs). Just before serving, slowly, slowly add the eggs. Give them a minute to set, then add the spinach. Serve immediately. To accentuate Asian flavors, add a few drops of sesame oil just before serving. [Note: When I make this just for myself, I sometimes crack the whole egg directly into the soup and let it poach in the hot broth. A nice variant.]