I feel almost guilty reveling in the first violas of spring today, when I know so much of the country is facing horrific winter storms. But since I can't change that, I can at least send images of hope to the snowbound, and a sweet story for all.
Violas come again. Over the past two months, I have been chained to my desk, working on a big book project for which I was given only half the time the work would actually take. I knew this going in, and knew it would mean everything else in my life would have to go on hold. Including early-spring gardening tasks.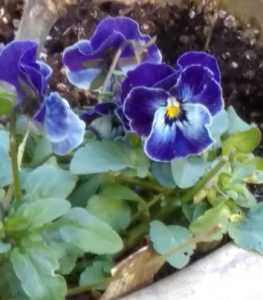 So it was with very great pleasure that I noticed a container of fall violas had wintered over and blessed me with their cheerful faces at a time when I sorely needed it.
Here are two snapshots –note that I have not even had a moment to do any cleanup: this is exactly what life looks like right now.
I will snip these blossoms, press them, and replenish my inventory of my give-away bookmarks – once my work deadline has passed, that is. And then these little darlings will give me even more beautiful blossoms; it's their goal in life to make me happy. You too.
So if you don't have a few violas or pansies planted already, you can be sure they will show up in the nursery very soon; they are, after all, cool-weather plants. So pick up a few, and plant them as soon as you can – as soon as the ground is no longer frozen, for your northern folks. You will get to enjoy them this spring, and again this fall, and then, if all goes well, again next spring. Such is the power of overwintering.