New Soup Night: Muffin Tin
Since my book Soup Night was published in late October 2013, I have learned about a number of other Soup Night groups. It's so much fun to hear from these folks. Some of these groups were already thriving but I just didn't find them in time to include in the book. Others of them were, I am tickled to report, inspired by the book.
It's my pleasure to introduce these new groups, to add to the Soup Night tradition.
And if you happen to be part of a soup group, in whatever form that might take, or know about one, I'd love to chat with you about it. Please contact me here; I look forward to hearing your story.

A while back I did a presentation about the Soup Night tradition at a cooking school in Portland, Oregon, and one of the women in the audience came up afterward to tell me about an event she organized with a group of friends. One element of their gathering is so amazingly creative I just had to share it with you.
Here's how they manage their evening.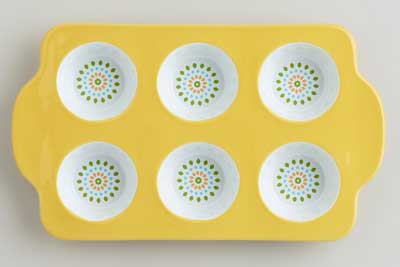 A group of 12 friends, all enthusiastic cooks, gather once a month at someone's home. Each person brings a soup, enough to provide 12 servings approximately 8 ounces each. The host provides bread, wine, maybe a light dessert. Sounds familiar, right? But here's the creative part, and it is utterly charming.
In addition to their soup contribution, each person brings an empty muffin tin, the kind that makes 12 full-size muffins. That becomes their "bowl." Each cup gets a ladleful of one soup, just enough for a good tasting. By the time everyone has sampled all twelve, they're usually full, but they often go back for a second helping of the favorites.