Lessons I learned in my garden.
In recent weeks I've had occasion to think seriously about the big issues of life, and found myself drawn more and more to my garden. Not only because it's a wonderful place for reflection, but also because by its very nature it shows me a way to think about things and teaches me lessons I need right now.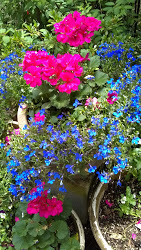 One is patience. Not exactly my strong suit in the best of times, but always needed. And then I look at my "flower tower," which I put together back in April with starts of cobalt blue lobelia, deep rose impatiens, and hot pink geranium. I remember what it looked like back in the beginning, and then I look at its spectacular glory right now. And what did that take? Water, a bit of fertilizer, and patience. (And yes I do see the irony in the name of my pretty pink flowers.)
Another is flexibility. Things you plan (or plant) don't always turn out the way you expect. So I think we have two choices: whine or adjust. The lesson for me is that we are not always in control of what happens to the plants, but the garden can still be beautiful.
Another is optimism. Put some sugar snap pea seeds in the ground in early February, and even if you get a surprise snowfall soon after, you have faith that the seeds will still sprout and give you their best. You take that gamble because you love sugar snaps and you simply trust them to flourish.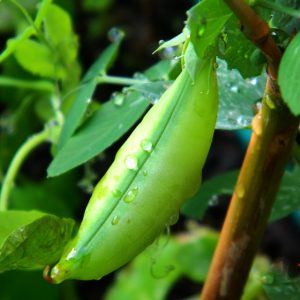 So when I browsed through my local nursery recently, just for fun, I ended up buying perennials, rather than annuals, because I expect to enjoy them next year.
So thank you, to my garden. And to Mother Nature, for all the magic she showers on us to keep our gardens lovely.