"Hello spring. Welcome." Love, Pansy.
Is there anything cheerier than these sweet faces smiling at us? And they tiptoe into our lives just when we need them most, when we're sick and tired of winter. How perfect is that?
Pansies are just about the ideal spring flower. They can withstand cold temperatures, even a light snow, and just keep on blooming their hearts out for us. They're completely easy to grow, come in gorgeous color combinations, and have that sassy, too-cute-for-words look about them that makes us smile back.
Cute, easy to grow, lovely colors, long season of bloom.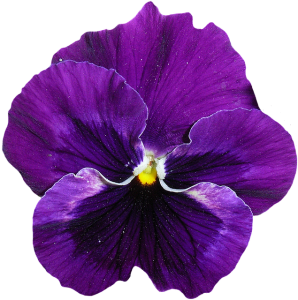 Need more good news? They are also edible. That is, if you don't spray any toxic chemicals on them. Which you won't have to, because they are essentially bug-free.
And keep this in mind — pansies, being cool-season plants, show up again in the nursery in the fall too. With any kind of luck, fall pansies may winter over and bloom again for you next spring.
Today's pansies are all descended from a wildflower that is native to western Asia and Europe, where it was called hearts-ease.
And where, despite that lovely name, it was considered a weed.
Then, in a pattern we find often in horticultural history, early in the nineteenth century several amateur botanists became enthralled with this dainty wildflower and began cultivating it and experimenting with hybrids. It wasn't long before professional nurserymen began developing new varieties for market, focusing on trying to create bigger flowers and a wider variety of colors. That pattern continues to this day; new cultivars are introduced every year, to the delig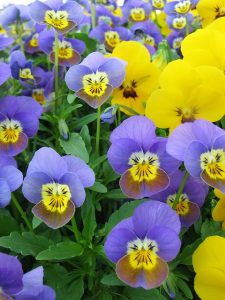 ht of gardeners everywhere. Even in Europe, where they now apologize for having called it a weed.
Pansies are in the genus Viola, a genus that also includes violets, Johnny jumpups, and that delicate flower we call viola, the one that looks like a smaller version of a pansy. And isn't that cute—a viola is a Viola and so is a pansy. (To see the size differennce, note the yellow pansies in the background here.)