Flower Arrangements When Flowers Are Few
This looks especially nice against my blue vase and bowl (blue and orange are complements on the color wheel, and always look good together).  And sunshine through the window sets it on fire.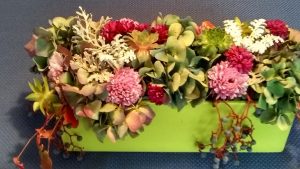 This long arrangement, a centerpiece for the main table, includes the silvery leaves of dusty miller (from the garden of our friend Martha) and flower snips from my hydrangea.