Celebrate Loving Kindness
Valentine's Day is for lovers, we all know that. And you probably have your favorite special traditions for celebrating with your sweetie. Maybe breakfast in bed, maybe a quiet dinner at home by the fireplace, maybe a night on the town, with white linens and dancing. Whatever it is, I say go for it!
But I'm going to invite you to expand your thinking to include ALL the people you love. This is a good day to let them know how much they mean to you.
PARENTS. Your children may get a basketful of valentines at school, but a really special card from you, chosen carefully and presented with ceremony, will mean more than you can imagine. Add a small box of candy, or a flower to wear at the supper table, and tell them, out loud, that you think they are the greatest kids in the world.
MOMS, enlist the children to help make a heart-shaped cake for Dad. Show them how to use icing tubes to write a special message.
DADS, bring a small corsage to daughters, and take the sons to the florist to choose a bouquet for Mom. No matter what he picks, buy that one. And a card. And show him how to hold the dining chair out for her.
AUNTS AND UNCLES. Take nieces and nephews to the skating rink or indoor play arena or pizza parlor. And explain why: so Mom and Dad can celebrate Valentine's Day, but "we might be having more fun than them!"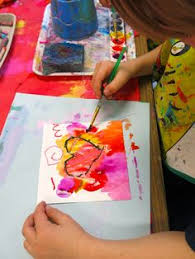 GRANDCHILDREN of all ages.  The love our grandparents give us is unparalleled and unlimited. Now that you're all grown up, be sure to include them in your celebrations. An extra-special lunch at their favorite restaurant, if possible. Or make them guests of honor at the family dinner table. Invite your children to make the most beautiful Valentine they have ever imagined and make a big deal of presenting it at that dinner. Then, come the weekend, frame it for Grandma.