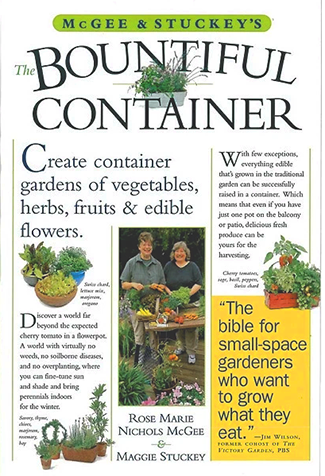 There has never been a better time to plant a vegetable garden. You already know the joys of having fresh, healthy food right outside your kitchen door, and now we add one more reason: the extra comfort of personal safety. If a trip to the grocery store is difficult right now, having a small garden plot or a few containers jam-packed with veggies is a good solution.
When the reality of this awful virus began to sink in, one of my first thoughts was how I could help people get started with a garden, for all the usual good reasons. But suddenly there were so many ads for commercial products obviously meant to take advantage of our fears; I just didn't want to behave like that.
Then, recently I got an email note out of the blue from a woman who had been trying, without success, to order a new copy of my book The Bountiful Container because the one she owned had been used so vigorously it was literally falling apart.  "Your book changed my life." She actually said that.
Her note changed my thinking. I came around to seeing that the information in the book could indeed be helpful, especially now, to people who are new to gardening. So I'm writing to let you know that copies of the book, personally autographed, are available direct from me.
Two ways to order:

Credit card:  $25.95
includes book-rate shipping.

     

Check: $22.95
includes book-rate shipping.
Send your check, to:
            Maggie Stuckey
            6744 NE Hancock St
            Portland OR 97213
Be sure to tell me how to

autograph

it  — to you, or to someone else if it's a gift.
And please, everyone, stay safe. I don't want anything to happen to you!

Love, Maggie