Twenty-six Decembers ago, Stephen and Melissa Neely, of Pittsburgh, decided to host a soup supper for a few friends.  They called it Big Soup –and today it is indeed BIG in every dimension. Big in community spirit, charity support, originality, charm, and fun.
 Not to mention attendance. In December 2018, they had 260 people in their home, meeting new friends, hugging old ones, enjoying their choice of five soups, and supporting the Food Bank.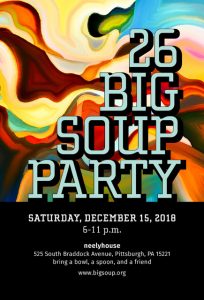 I first "met" Stephen and Melissa when I was writing my Soup Night cookbook. (For those of you who own a copy of that book, their story starts on page 118). I interviewed many amazing cooks and community-minded folks this way, all of them awe-insipring, but what the Neelys do is unique.
For one thing, they go out of their way to invite people they don't know. Like all Soup Nights, the whole point of Big Soup is to provide a way for people to meet folks they don't know – to expand the circle of community.
Their invitations (beautifully designed by graphic artist Melissa) say "bring a bowl, bring a spoon, bring a friend."  And starting in November both Melissa and Stephen go around with pockets stuffed with invitations, in case they cross paths with someone they think would like to come – like someone they meet in the line at the bank, for instance, or debating different kinds of lettuce in the produce aisle. That's how they end up with 260 happy guests!
For another, the food. Each year Big Soup features five kinds of soup and five breads made from scratch.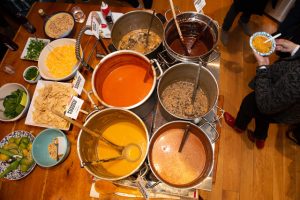 Stephen and Melissa plan the menu and do the shopping ahead, and set up work stations in the kitchen; a small group of friends arrive the day before to start the cooking, and others come early the next day to help with logistics. "We never have to ask for help," Melissa says.  "People just love being part of it." You can find the recipes at their website, BigSoup.org.