The Ad-Libbers Guide to Soup
That's what I call ad-libbing: open the refrigerator, see what you have, then imagine how you could combine it with what else you have. A friend of mine occasionally makes what she calls whatcha-got stew. Same idea.
Here are three real-life examples.
Using l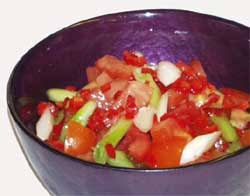 eftover salsa. The other day I made some taco soup. You know this one: sautéed ground beef, onions, garlic; canned beans (drained), canned corn (drained) and canned diced tomatoes (not drained); beef or chicken or vegetarian stock (your favorite commercial version); seasonings. Then at the last minute I spied a half-full container of store-bought tomato salsa. When the soup was ready, spiced up to my taste with cumin, chili powder, salt, and pepper, I stirred in that salsa just before serving. It added a deeper flavor to the soup overall, and the veggies in the salsa retained their crispness, which was a nice contrast to the smoothness of the soup.