Please Eat the Flowers, part 2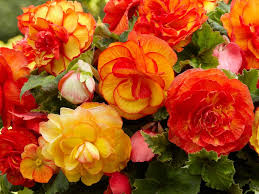 Or try this unusual afternoon snack, which I first learned about at a California nursery that specializes in these fabulous plants. On your prettiest platter, spread a selection of individual begonia petals, in as many colors as you can manage. In among them, nestle several small bowls of fruit-flavored yogurt. This is a fingertip treat:  take one petal and dip it into the yogurt; the contrast of the tangy flower and sweet yogurt is delightful.
If you have any questions about using edible flowers, send me a note here.  Or if you have other ideas for using them and would like to share, I'd love to hear from you. 
Next month: new ways to use what is probably the best-known edible flower of all: nasturtiums.