Please Eat the Flowers, part 2
Daylilies. The petals have a taste somewhere between sweet and savory, and the knockout colors enliven anything you add them to. Just be sure you know a daylily from Asiatics, Orientals, or any other kind; only daylilies are edible.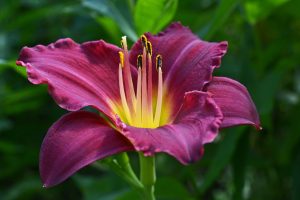 It takes a bit of practice, but a very elegant way to use them is to create lily "cups" and fill them with tuna salad, chicken salad, or something similar. Or put out a beautiful platter with selections of several types of salad, using different color lilies. To make the cups, start with whole flowers (not individual petals) and carefully snip out the pistils and stamens with your fingernails or manicure scissors.