Be Brave – Try Something New
PATIO BABY eggplant.  The plant itself is compact (2 feet or less)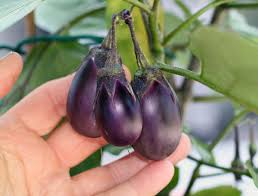 and the cute little eggplants are only 2 inches long. Mild, sweet flavor, with no bitterness. Another All-America Selection. Seeds available from Johnny's, Totally Tomato, Park, White Flower Farm, Burpee, Territorial.   
PARISIAN carrot.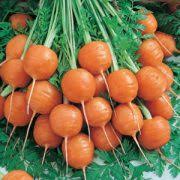 A charming heirloom variety, long popular in Europe, now available in the US.  Carrots are completely round, about the size of a Ping-Pong ball, and grow well even in heavy clay or rocky soils. Give the kids in your life a packet of seeds and watch them discover the thrill of growing healthy snacks. Seeds from Harris, Urban Farmer, Seed Savers, Nature-and-Nurture, Victory Seeds.
VALENTINE tomatoes. Another All-America winner, and that's all the recommendation I need! Judges said, "Hands down, the most appealing grape tomato [we] trialed." Shaped like a miniature Roma, with very sweet taste; a prolific producer that matures early. Indeterminate, so needs staking. Or try it in a hanging basket. Seeds from Johnny's, Totally Tomato, Jung Garden and Flower.