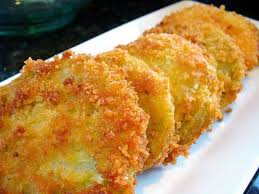 Here's what you need to know.
Use green tomatoes because they hold their shape and texture when fried.
They are best eaten hot, or at least warm.
Everything else is negotiable. Like most "country" dishes, there are almost infinite variations. I'll give you my version, but you should feel free to experiment.
1. Start with 3 or 4 or 5 green tomatoes, however many you have on the day you're doing this. I like them on the small side, because at that size they're easier to manage as a snack item, but of course you'll use what you have. Slice them about 1/3 inch thick, or ¼ inch, or ½ inch; it's not critical.