MEDIA EXPERIENCE
Maggie has appeared  dozens of times on regional television magazine shows around the country, and is often invited back. For example, after a successful cooking segment on Portland's most popular morning show  ("AM-NW" on KATU, the ABC affiliate) in late 2013, the producer asked her to block out time for monthly segments through November 2014.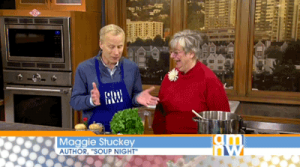 Recipe  

Video 

Photos



October 28, 2013  • QVC
Soup Night with Maggie Stuckey



November 6, 2013 • "AM-NW," channel 2 KATU-TV
African Peanut Soup



January 6, 2014 • Oregon Live
Soup night helps Northeast Portland neighbors build community, inspires a new cookbook



January 7, 2014 • "AM-NW," channel 2 KATU-TV
Havana Banana Black Bean Soup



March 11, 2014 • "AM-NW," channel 2 KATU-TV
Asparagus Leek Chowder



May 14, 2014 • "AM-NW," channel 2 KATU-TV
Taco Soup
In conjunction with the recent book
Soup Night
, Maggie was a guest on QVC's popular show, "
In the Kitchen with David.
" She also conducted
27 radio interviews
with stations all around the country, in markets large and small.
Maggie is a frequent speaker at garden clubs and plant nurseries, and they keep inviting her back.
In all these appearances, she is comfortable, knowledgeable, and personable. Audience feedback includes comments like:   funny, entertaining, very knowledgeable, and delightful. One feedback questionnaire from a series of classes at a large nursery: Q: What other classes would you like us to offer? A: Anything by this woman!!
Producers and hosts: video and audio clips available on request.