What's In Your Fall Garden?
It's a special time of year, when the trees are wearing their beautiful colors and shorter days drive us indoors by the fire. But it doesn't mean the end of gardening. Many wonderful veggies actually prefer cool weather, and if your garden features some of these, you'll be the envy of all your neighbors.
If not, think about these beauties for next fall. Bright Lights Swiss chard. Red Russian kale. Easter Egg radishes. Chioggia or Golden beets. Little Finger carrots. Garlic chives. Spinach. radicchio, arugula, and all kinds of wonderful lettuce.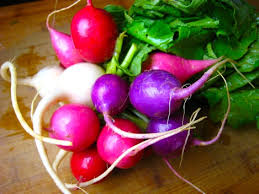 Fall gardening has an extra benefit: you won't have to worry about bolting in a sudden hot spell. On the other hand, you might have to add some protection when snow and ice are in the forecast.
In this regard, as in all else, it's all about balance.