I have loved everything about growing vegetables since I was a little girl tagging along behind my grandmother on the family farm in South Carolina. Today I live in a big-city condominium with no garden space at all, just a patio about the size of a handkerchief. When I moved in I knew that if I wanted to have a vegetable garden, it would have to be in containers. Something I knew absolutely nothing about. So I did what I usually do when starting something new: went to the library to find a book on the subject. And guess what – there weren't any.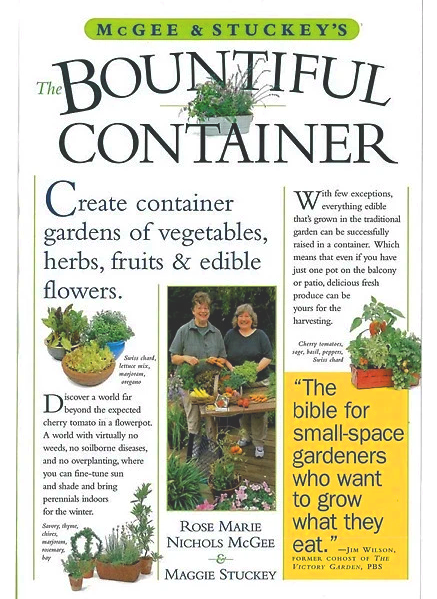 So I decided to write one.
This book is the result. It's full of information on growing good things to eat in a container garden, for people who do not have a traditional garden space. Maybe they live in an apartment, or a condominium, or a houseboat. Maybe their regular garden space is too shady. Maybe they'd love to have a small portable herb garden close to the kitchen door.
It is crammed with specifics on growing all sorts of vegetables, herbs, fruits, and edible flowers. In fact, no plant is included that is not edible. For that is the whole point: creating a beautiful, flourishing kitchen garden even when you don't have an actual in-the-ground garden. In addition, it includes designs for 18 theme gardens. Click to look inside on amazon.com.
A Special Message from Maggie, spring 2020.
There has never been a better time to plant a vegetable garden. To all the familiar joys of growing your own fresh, healthy food right outside the kitchen door, this year we add one more reason: the comfort of personal safety.
If you're new to container gardening, I wanted to let you know that you can order a copy of my book direct from me; and I'd love to autograph it for you.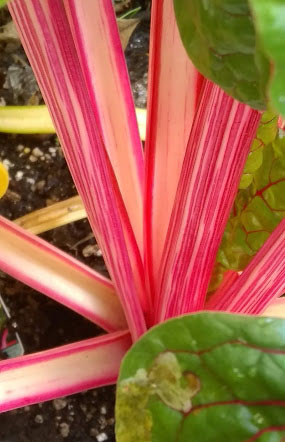 What others are saying about this book:


The bible for small-space gardeners who want to grow what they eat. A practical, comprehensive, joyous reference. – Jim Wilson, The Victory Garden


The definitive work about culinary container gardening. You'll be inspired to fill every pot you have. – Sunset magazine


One of the year's best garden books. Creativity is the hallmark of The Bountiful Container. – The Christian Science Monitor


The best darned container gardening book is out…informative, warm, funny, and packed with clear, concise information. – Ann Lovejoy, Seattle Post-Intelligencer


A wonderful book that takes all the guesswork out of patio gardening. Has a zillion ideas and step-by-step instructions. –The Garden Gal.tv


Loaded with clear and easy directions, written in a personable style. – Backyard Solutions magazine


A comprehensive and upbeat guide to creating container gardens of vegetables, herbs, fruits, and edible flowers. – The American Gardener magazine


Armed with this manual, frustrated apartment dwellers can indulge their passion for growing edible things. Directions are comprehensive, clearly written, and frequently inspiring. – Publishers Weekly magazine


Gives apartment and condo dwellers something to cheer about. – San Jose Mercury News


A must-have for gardeners in small spaces. – The Oregonian


This is the book to read if you want to grow edible plants in containers. – San Diego Union Tribune


Pick up a copy. There's plenty of solid, down-to-earth advice about how to put limited space to work. – Chicago Tribune


You can farm right off your deck or patio with the clear and easy directions in this book. Highly recommended for those without the space, time or strength to till the soil. This book nourishes body and soul. – Seattle Post Intelligencer


Designed for people who love to cook with vegetables and herbs fresh from the garden. Full of inspiring information, and worth every penny of its minimal price. – Dayton (Ohio) News


A highly functional, well-organized guide. A handy book, especially for novice gardeners. – Mountain Living magazine


This book is a winner. – Lexington (KY) Herald Leader


 Beginners and seasoned gardeners will find all they need about creating a container garden of vegetables, herbs and edible flowers.
         – Columbus (OH) Disptach


 Takes a practical, results-come-first approach. – Charlotte (NC) Observer


 An easy-to-read guide that provides inspiration for small-space gardeners." – Eugene (OR) Register Guard
If you prefer to pay by check:
Send your check for $22.95 (includes book-rate shipping), to:
Maggie Stuckey
6744 NE Hancock St
Portland OR 97213
Be sure to include a note so I know how you'd like it autographed.
I am forever grateful to all these reviewers for their comments. But here's one that came very informally. A friend told me this story: "I was in a local nursery the other day buying your book for my sister. When I checked out, the cashier said, 'This is such a great book.' I told her I knew you and she was thrilled. She said when things get slow they read all the books and yours is her favorite."


A tour-de-force. Tightly written and very easy to use. Everything you need to know is laid out in apple-pie fashion. – Grass Valley (CA) Union


A thorough and practical guide to growing just about anything you can eat, in a container. Perfect for the gardener who has no garden.
         – Harrisburg (PA) Patriot News


Focuses on container growing of anything edible and breaks down the how-to's in great detail. – New Orleans Times Picayune